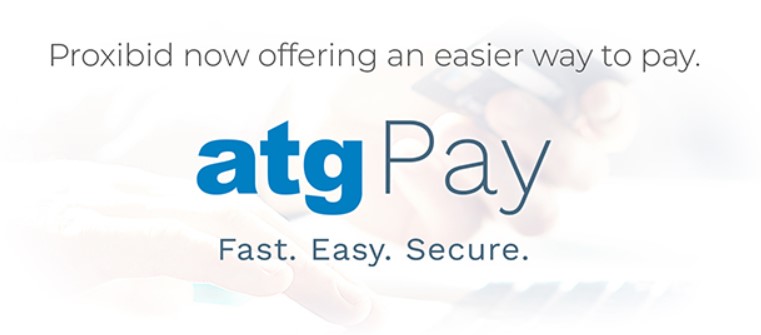 The below summarizes atgPay, information on how to become a user of atgPay and benefits of utilizing this service.
This article contains the following sections:
What is atgPay?
---
atgPay is Proxibid's new seamless and secure payment processing system that enables you to invoice and collect card payments from Buyers who won at your auction.
atgPay is...
Fast: Spend less time chasing Buyers to make payments and more time selling lots.

Easy: Buyers can pay the invoice from their Proxibid account, with a few clicks. Funds are disbursed to you twice per week.

Secure: We meet the strictest requirements for security and PCI compliance.
You can read the atgPay Terms & Conditions for Sellers here.
General Information
---
What payment methods can bidders use?
Almost every kind of credit and debit card is accepted, including Visa, MasterCard, American Express, JCB, Discover, and Diners Club. Bidders can also pay via Bank Transfer (ACH).
Can auction house partners collect via other methods such as cash, check, or other means?
To provide a seamless bidder checkout experience and ease of reporting, we encourage auction house partners to collect all payments via atgPay. You are, however, free to collect cash, wire, checks, or other means of payment. Auction houses interested in running both APN and atgPay in the same event should follow these guidelines.
What are the card processing fees?
atgPay offers clients simple and consistent card processing rates; one flat-rate processing fee (%) and one flat-rate transaction fee ($) for every transaction, no matter if it's debit or credit card, Visa, Amex etc. There are no monthly subscription fees, and pricing is based on transaction volume. Contact us today for more information.
What is the maximum dollar value that can be transacted?
There is no limit to the dollar amount that can be transacted, unless you designate a atgPay: Credit Card Limits on your event.
What currencies are accepted?
At this time, USD is the only accepted currency. If atgPay is enabled the ability to select an alternate currency won't be available and vice versa, if a currency other than USD is selected, atgPay will not be available for that auction.
Will sales tax be collected?
Yes. To help auction houses comply with internet sales tax laws, we have introduced enhanced tax calculation services for purchases made on Proxibid with payment collected through atgPay. Auction houses will not be charged any additional processing fees for this sales tax collection service.
Sales that are not made on Proxibid, with payment collected through atgPay, are not covered by our free tax services.
For more information, see atgPay: Internet Sales Tax.
Does atgPay work with Wavebid?
At this time, atgPay is not offered for events run in Wavebid. In order to use atgPay, the event must be run entirely in Proxibid.
How do I pay my atgPay bill?
Fees associated with using atgPay will be automatically deducted from an auction house's disbursements before they are disbursed. As such, auction houses will not receive a separate bill for atgPay or see charges for atgPay on their Proxibid bill. Auction houses can view reports in the Payment Processing Portal to see which fees have been withheld.
atgPay Features
---
How can I offer atgPay on my auctions?
---
We're in the early stages of rolling out this new feature, with a limited release for selected auction houses. For more information about atgPay, or to contact Sales, click here.