This article describes how to launch and use the Buyer Heads-Up Display (BHUD) in AuctionBuilder. For information on the Auctioneer Display, see Auctioneer Heads-Up Display (AHUD).
This article contains the following sections:
What is BHUD?
---
The Buyer's Heads Up Display projects onsite and online bidding activity together in one easy-to-read display. Projecting the BHUD strategically around an auction site keeps bidders on track, while displaying the online bidding generating a sense of urgency for the onsite bidders.
The Buyer Heads Up Display shows onsite auction attendees a real-time, projected view of the bidding for each lot. The standard Heads Up Display's consolidated view shows the audience the lot's:
Title
Primary image
Next asking price using the primary auction currency, the code and country flag
Current leading bidder, their country and whether they are online or onsite
Up to five additional currency conversions (optional)
Launching BHUD
---
Click the

AppletLauncher

link located in the top right corner of any AuctionBuilder page.

Use the drop-down to select the auction event.
If the event is not already live and should be, check the

Set auction status to Live

box. For more information on event status, see

Event Status.
Do

NOT

enter login information on this page.
Click the

Launch Buyer HUD

button. A new window will open.
Viewing BHUD
---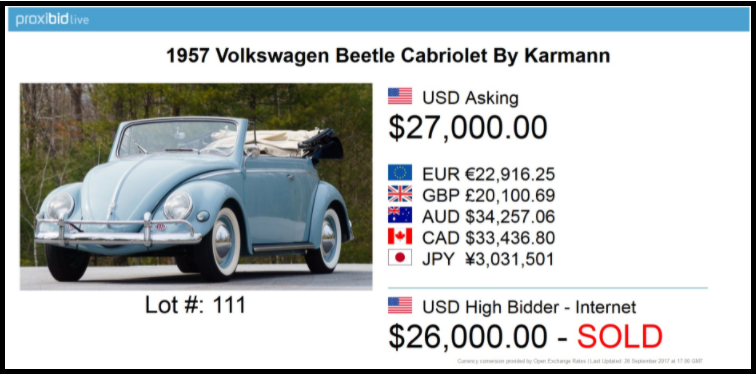 Lot number, image, title: On-site visual tracking of what is "on the block" results in an easy-to-follow catalog companion that generates additional interest. High resolution images and visual triggers result in on-site/online bidder alignment and increased bidding activity.
Item's current asking price: Real-time pricing tracking allows the bidder to always know what the starting ask is and have confidence in their next bid, resulting in less retractions or misunderstandings.
Currency conversion: Five additional, interchangeable currency conversions allow for quick international currency calculation and the increased awareness of the the global audience an auction attracts.
Real-time bid activity: The real-time bid activity generates transparency regarding online bidders, and generates a sense of excitement and urgency to bid. It also adds clarity as to where the bid is at, whether it is onsite or online, and when it is finally SOLD!
Technical Requirements
---
Laptop/external monitor with the ability to mirror to a TV display.
Personal (phone) or cellular hotspot, wired, or wireless internet connection to device.
TV Monitor to reflect Buyer HUD to onsite bidders.