Upon the completion of your auction, sending out invoices provides direction to the winning bidder that they not only have won an item, but what their next steps are. It's important that the invoice is clear, concise and easy to digest in order for you receive prompt payment at the conclusion of your auction. This article will demonstrate how to personalize and update the invoice information that will be sent to your bidders at the close of an auction. For more information on invoicing in AuctionBuilder, see Invoicing.
This article contains the following sections:
Editing Invoice Email Details
---
To make changes to the text displayed on the invoice email:
Click on the

Payment & Terms

link at the bottom of an auction event on the AuctionBuilder Dashboard.

Update the fields below as needed:

Click the Save button at the bottom of the page.
For more information on sending invoices, please see the 'Print/Email' section of the Invoicing help article.
Updating the "Reply To" Email Address
---
If bidders respond to their emailed invoice, the response will be sent to a no-reply Proxibid email address and the bidder will not receive a response. To have responses forwarded to a live email address, follow the steps below:
Click on the Edit Account link located under Clerking on the left side of the AuctionBuilder Dashboard.
Enter an email address into the Invoicing Email field.
Click the Save button at the bottom of the page.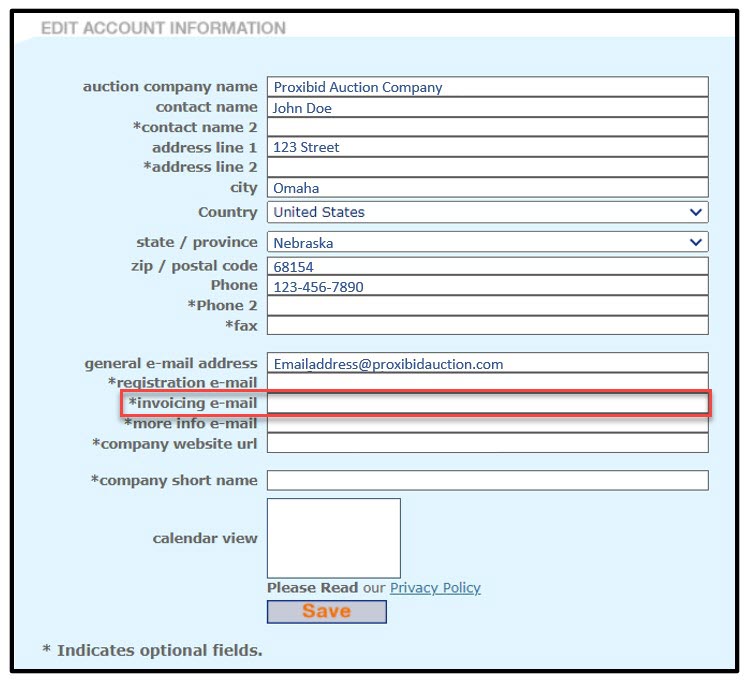 Receiving the Invoice Email
---
Viewing an Invoice
Once invoices have been sent, the winning bidder will receive the emailed invoice containing information relating to the purchase (note, not all of the below may be applicable to your event):
Auction/Event Name
Auction House
Total Amount Due
Hammer Price
Any applicable fees (ex. shipping, tax, processing, etc.)
Cash Discount (if applicable)
Payment Instructions
Invoice Email Details
Shipping Instructions
Checkout Date & Times
The bidder will also have a View Invoices button allowing them to view or print the details of their winning invoice and pay in accordance to the payment terms outlined in the auction.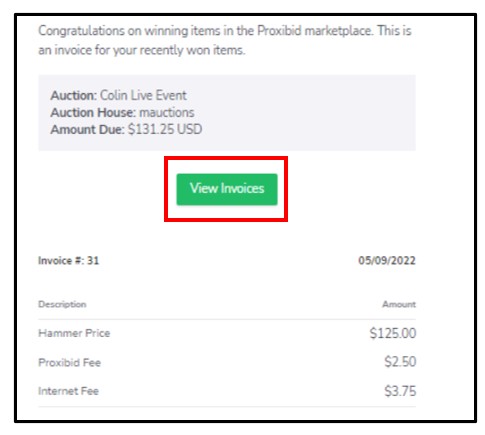 atgPay
For events utilizing atgPay, Bidders will also have a Pay Now button within their received invoice. For more information, please see atgPay: Bidder Payments.