This article explains the process for enabling atgPay on an individual auction event. 
Enabling atgPay on an Event
---
An auction house must sign up for atgPay before it can be enabled on an event. Click here for more information or to contact Sales.
atgPay and its features should be enabled prior to bidder registration to ensure a seamless bidder experience.
Create a new event or click on the Payment & Terms link at the bottom of the existing auction event on the AuctionBuilder Dashboard.
Enable ATG Pay: Selecting this box enables atgPay for the event. 
Enable Autopay: Select this option to have the winning bidder's credit card on file automatically charged either 24 or 72 hours after their invoice was sent (or re-sent). For more information, see atgPay: Autopay.
Credit Card Limit: If desired, check the box and enter a limit to the amount bidders can pay via credit card. Invoices with hammer prices over this amount must be paid for via bank transfer (ACH). For more information, see atgPay: Credit Card Limits.
Hold Requirement: Should you wish to utilize one of our two Hold options. Enter the Hold amount.
Hold Approval Method:  Determine the method of Hold desired for your event. For more information see atgPay: Holds
Allowed Payment Methods: Select one or both of the payment methods to accept via atgPay. For more information, see atgPay: Accepted Payment Methods.
Buyer Pays Fees: Select this checkbox to have credit card fees passed on to the bidder. For more information, see atgPay: Invoicing.
Shipping Methods: Select the desired shipping options offered for the auction. For more information, see atgPay: Shipping Options and Fees.
Payment Instructions: Update or complete the remainder of the Payment & Terms.

Proxibid suggests adding the following statements to the event's Payment Instructions field:

To indicate to bidders that the event is using atgPay: "At the end of the auction, Buyers will receive an invoice with a 'Pay Now' button, to checkout simply and securely via card or bank transfer (ACH) using atgPay."
To indicate to bidders that Autopay has been enabled and will be utilized: "The Buyer's Credit Card on file will be automatically charged within 24/72 hours if the invoice has not already been paid."

Please note, since taxes are calculated automatically when using atgPay, auction companies will not be able to edit the tax rates on events using atgPay.

Click the Save button at the bottom of the page.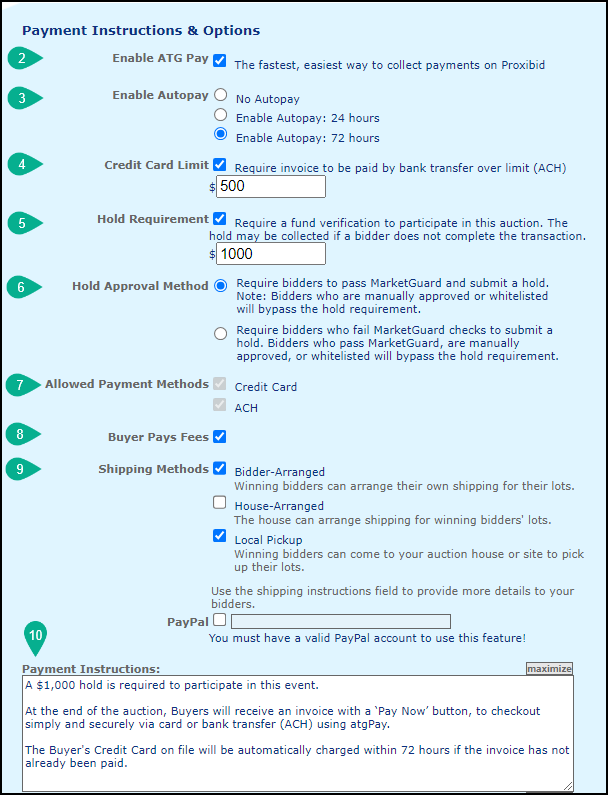 Note: atgPay is currently only accepts USD currency. If another currency is selected, atgPay will not be available for use and vice versa.