This article describes the federal guidelines used to determine whether or not a firearm is classified as "Antique or Curio or Relic (C&R)", as well as policies relating to the advertising of those items on Proxibid.com.
This article contains the following sections:
What Qualifies as an Antique, Curio or Relic Firearm?
---
A regulation implementing federal firearms laws, 27 CFR § 478.11, defines both antique and curio or relic (C&R) firearms as those which are of special interest to collectors by reason of some quality other than is associated with firearms intended for sporting use or as offensive or defensive weapons.
What is considered an Antique Firearm?
To be recognized as an antique firearm:
Any firearm (including any firearm with a matchlock, flintlock, percussion cap, or similar type of ignition system) manufactured in or before 1898; and
Any replica of any firearm described in item 1 of this definition if such

Replica is not designed or redesigned for using rimfire or conventional centerfire fixed ammunition, or
Uses rimfire or conventional centerfire fixed ammunition which is no longer manufactured in the United States and which is not readily available in the orginary channels of commercial trade.
What is considered a Curio or Relic Firearm?
To be recognized as curio or relic items, firearms must fall within one of the following categories:
Firearms which were manufactured at least 50 years prior to the current date, but not including replicas of such firearms.

Firearms which are certified by the curator of a municipal, state, or federal museum which exhibits firearms to be curios or relics of museum interest.

Any other firearms which derive a substantial part of their monetary value from the fact that they are novel, rare, bizarre, or because of their association with some historical figure, period, or event.
Firearms automatically attain C&R status when they are 50 years old. Any firearm that is at least 50 years old and in its original configuration would qualify as a C&R firearm. It is not necessary for such firearms to be listed in the Bureau of Alcohol, Tobacco, Firearms and Explosives (ATF) C&R list. Therefore, ATF does not generally list firearms in the C&R publication list by virtue of their age.
Advertising
Antique, Curio or Relic Firearms
---
For some time, Google, Facebook and other digital advertising providers have prohibited ads that directly advertise firearms. As a result, firearms can only be displayed/advertised on the Guns & Military Artifacts category page on Proxibid.com which has direct traffic of all interested parties who are in the market to purchase firearms.
When it comes to digital advertising, Proxibid must abide by the rules of engagement set forth by Google- otherwise, we risk sanctions that could impact our ability to serve auctioneers. Google's full policy can be found here.
The following is allowed:
Ads for gun parts and associated items that increase the safety of a gun.

Examples include (but are not limited to): gun locks, trigger locks, safety pins, chamber block.
The following are not allowed:
Ads for functional devices that appear to discharge a projectile at high velocity, whether for sport, self-defense, or combat.

Note: Proxibid errs on the side of caution and applies this policy to sporting or recreational guns that can cause serious harm if misused, or that appear to be real guns.
Examples include (but are not limited to): Handguns, rifles, shotguns, hunting guns, functioning antique guns, airsoft guns, paintball guns, BB guns, 3D-printed guns.

Ads for any part or component, whether finished or unfinished, that is essential to, or enhances, the functionality of a gun.

Examples include (but are not limited to): Ammunition, ammunition clips, silencers, tripods and bipods for guns, stocks, conversion kits, gun-grips, scopes and sights, bump stocks.

Ads for instructions on the assembly or enhancement of the functionality of firearms.
Auctioneers who intend to market and sell antique firearms on Proxibid, must explicitly describe the items as 'antique' in the lot description, ideally by attributing a date or date range, as well as ensuring the lot is listed in the 'antique pistols' category. If the listings do not contain these attributes, these lots are at risk of being removed from Proxibid.com, without notice.
Example of an adequately described and categorized antique firearm on Proxibid.com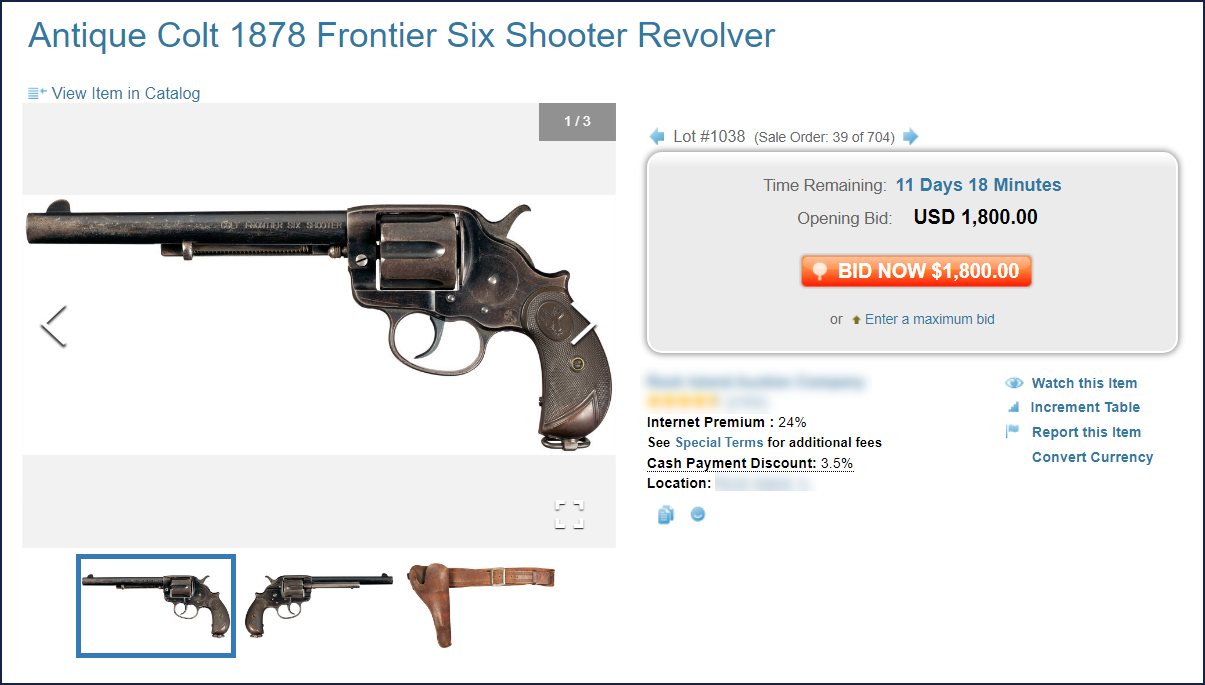 With any questions regarding the above, please reach out to the Proxibid Compliance team at listing.compliance@proxibid.com.