This article describes how to apply and use the auto-generate lot title option in AuctionBuilder.
This article contains the following sections:
Auto-Generating Lot Titles
---
AuctionBuilder has an option that will create lot titles automatically using the Lot Description and/or Lot Details (metadata), such as Year, Make, and Model. This option will only populate titles for lots that do not already have a title.
This option is currently only available for the following primary event categories:
Heavy Construction Equipment

Commercial Trucks
Vehicles, Collector Cars & Marine
Farm Machinery & Implements
An event's primary category can be viewed or edited by clicking the event's Listing link.
The auto-generate lot title option is enabled when uploading a catalog via the Bulk Loader. During Step 2 of the catalog upload process, check the Create titles from item details box at the top of the page.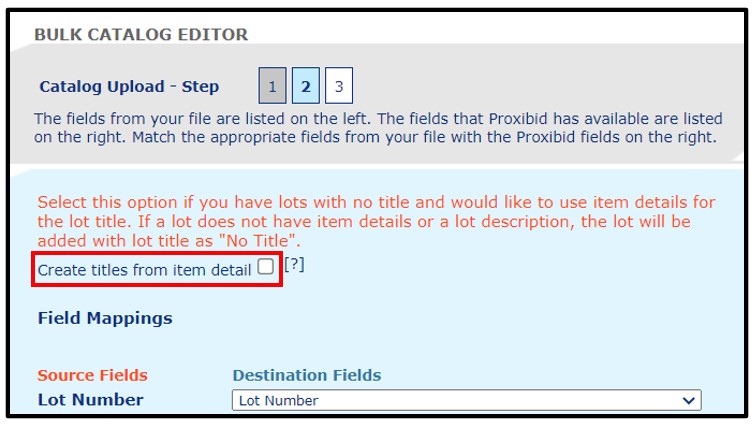 Lots with no title will use Lot Details (metadata), such as Year, Make & Model to create a lot title, when available.
If no Lot Details are available, the Lot Description will be used to generate the Lot Title.
If there are no Lot Details or a Lot Description, the Lot Title will appear as "

No Title

" in the catalog.
If a lot already has a Lot Title, no changes will occur.
If the Create title from item detail box is not checked during catalog upload, lots with no title or description will be ignored and will not appear in the catalog.