This article describes the various options available when setting up payment-related terms and conditions for an auction event.
This article contains the following sections:
About Payment & Terms
---
The
Payment & Terms
page
provides an auction company's contact information to bidders, and also contains the terms and conditions bidders agree to when they enter an auction event. This page
establishes how and when a winning bidder will make payment for items they have won.
Setting this page up correctly helps auction companies control their sales. Bidders will see all of the Payment & Terms information under the Terms of Sale section of the event on Proxibid.com.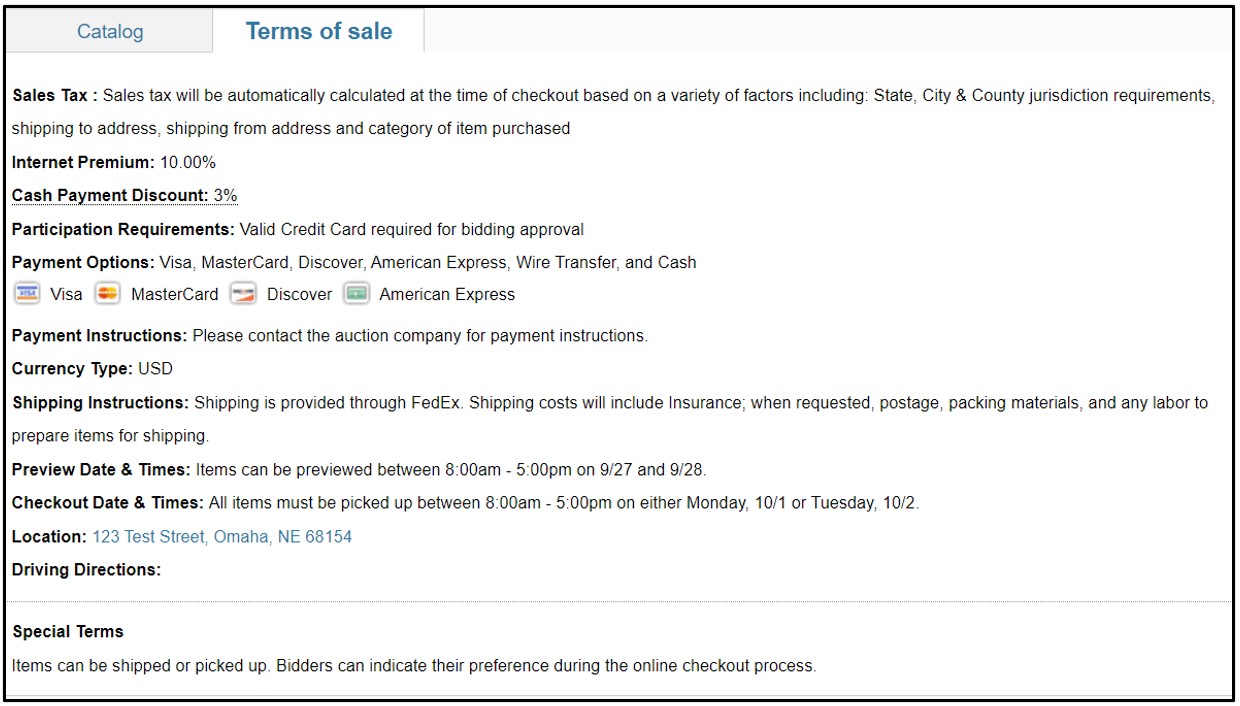 There are two ways to access the Payment & Terms page:
New Event: When creating a new event, the Payment & Terms page will automatically load after the event is saved.
Existing Event: Click on the Payment & Terms

link at the bottom of the event from the AuctionBuilder

Dashboard.



Seller Company Information
---
Bidders are more comfortable buying when they now more about the auction company they are working with. Providing details in the fields under the Seller Company Information section bolsters bidders' confidence in doing business with an auction company. All of the information entered here will be visible to the bidders. Fields marked with an asterisk (*) are optional.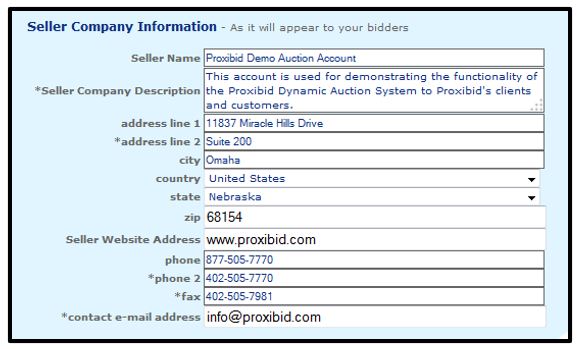 Payment Instructions & Options
---
Accepted Payment Types: Check the boxes of all types of payment that will be accepted for this auction event. To accept payment through PayPal, the auction company must have a valid PayPal account. When this option is selected, an email address associated with a PayPal account must be entered in the available entry field. When using PayPal, the buyer is responsible for initiating the payment. Because of this, the period of time between auction close and payment may be longer than with other forms of payment.
Proxibid offers an integrated payment system, Auction Payment Network (APN) that allows auction companies to quickly and securely process a winning bidder's credit card at the conclusion of an event. For more information, see Auction Payment Network.
Proxibid also offers atgPay, a new seamless and secure payment processing system that enables auction house's to invoice and collect card payments from bidders who won at auction. For more information, see atgPay: Introduction and Getting Started.

Cash Discount: Allows auction companies to to offer a discount for buyers paying in cash. Enter the percentage of the discount in the available entry field. This option is only available if Money Order, Wire Transfer, or Check have been selected as an acceptable payment type for this event.

Shipping Methods:
Auction houses have two shipping options available:
Local Pick-Up: The bidder will pick up all items directly from the auction house in accordance with the checkout instructions entered in the Checkout Date & Times field under the Event Details.
Self-Arranged: The bidder agrees to comply with the shipping instructions entered into the Shipping Instructions and Shipper Addresses fields under the Event Details.

Deposit Requirements: For higher valued events, a deposit may be required for bidder approval. To require a deposit for an event, check the Deposit Requirements box and enter the dollar amount of the deposit. Payment instructions can be entered into the Deposit Instructions field. Please contact a Proxibid Account Manager to enable deposit requirements.

Invoice Options: Allows an auction company to select whether or not a total will be included on the invoice. Selecting Include Total will display the total due at the bottom of the invoice. Selecting Shopping Cart Only will not display a total at the bottom of the invoice, but will list the items purchased and the amount of each item.
If the option Shopping Cart Only is selected, it is recommended to select the invoice message choice "Auction company will contact buyer with total". This option is generally exercised when the auction company needs a little more time to determine the entire total or if the auction company chooses to generate their own invoices.
Please note that the Invoice Option can be changed from Shopping Cart Only to Include Total after invoices are sent. This allows auction companies to send a preliminary invoice to the bidder right away, and then send out another with totals once taxes and fees have been added.

Invoice Messages Choices: This option is only available if Shopping Cart Only is the selected as the Invoice Option. Select which message should be included on the invoice: the buyer must contact the seller for totals, or the seller will contact the buyer with totals.

Payment Instructions: This field provides a place for auction company's to explicitly explain their payment instructions to the buyer regarding. Outline which types of payment are accepted, as well as the timeframe in which payments will be processed.

Invoice Email Details: This field provides a place for auction company's to provide additional details pertinent to a winning bidder's purchase. Information entered here will only appear on emailed invoices. This information will not appear in the Terms of Sale on Proxibid.com.

Event Details
---
Special Terms of Sale: Provide a thorough explanation of your auction terms and conditions.
Shipping Instructions: Shipping instructions should include everything a bidder will need to know to make an educated buying decision, including shipping costs, shipping company, shipping timelines, as well as instructions and deadlines for picking up inventory.
There is room for a primary, secondary, and tertiary shipper address. Within one or all of these areas, provide as much contact information as possible about a recommended shipping company.
Preview Dates and Times: If applicable, provide dates and times for bidders to come on-site to preview auction inventory. If preview is by appointment only, list the contact information to make an appointment.
Driving Directions to Auction: Provide bidders with instructions for arriving on-site.
Checkout Date & Times: Provide bidders with timelines and deadlines related to pickup and payment.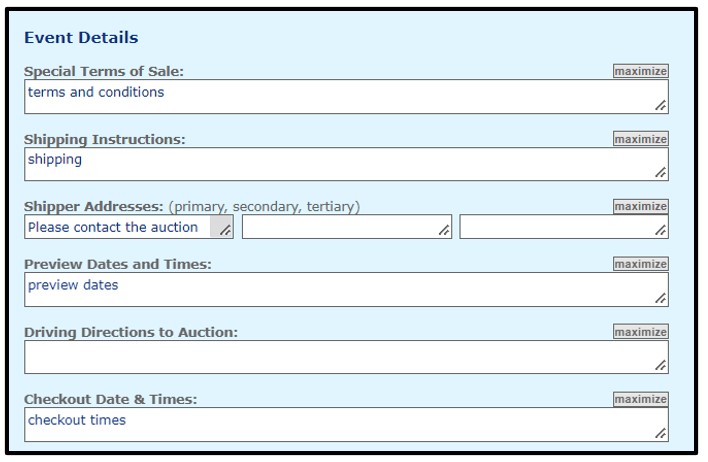 Automated Buyer Correspondence
---
This section is used to create pre-built responses to bidders for their registration attempts, as well as invoice emails. These emails are sent to bidders from info@proxibid.com. The text within the brackets in each field should not be changed, as that information will be automatically populated.
The first three fields include the verbiage for the automatically generated emails that inform bidders that their registration has been submitted and the result of their registration.
Pending Approval Email: Sent to bidders who have registered but need to provide additional information in order to be approved.
Approved to Bid Email: Sent to bidders who have registered and have been accepted for the event.
Declined to Bid Email: Sent to bidders who have registered and have been declined for the event.
Saving Payment & Terms
---
Once all the Payment & Terms have selected, click the Save button. Please note that data must be entered into all of the fields in this page before clicking Save, or else an error may occur and data may need to be re-entered.
To save this Payment & Terms information so that it becomes the default Payment & Terms information for future auctions, check the box in the bottom left corner of the page before clicking the Save button. The Payment & Terms information can still be edited for those future auctions if adjustments are needed.